Vision and Educational Philosophy
The Smart Tourism Education Platform (STEP) is a competitive academic program that can supply human resources necessary for the rapidly changing modern society with the development of IT information technology. It aims to establish an educational institution focused on training human resources in the field of smart tourism and hospitality, pursuing future human and social values.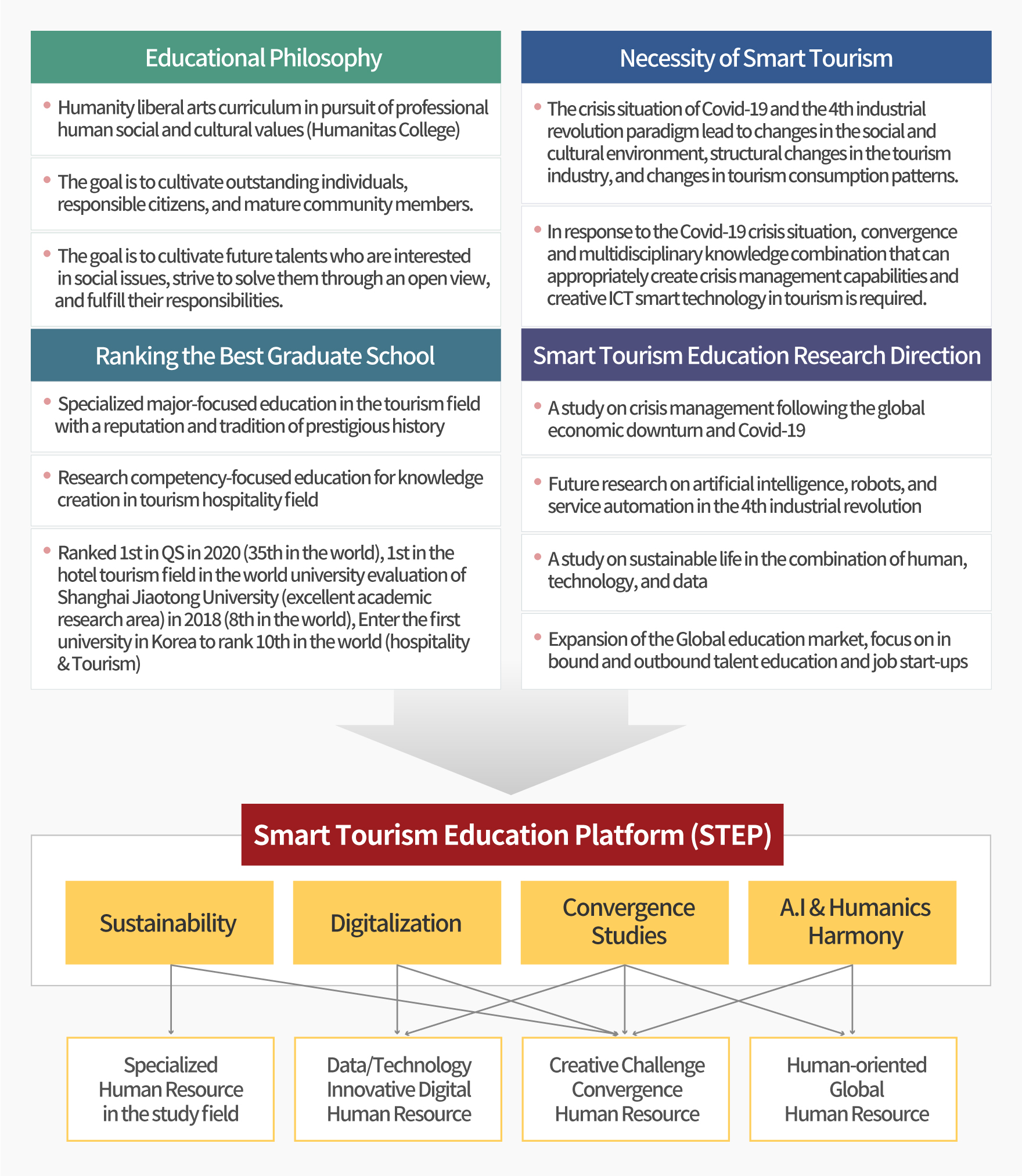 Our educational philosophy
Humanity liberal arts curriculum in pursuit of professional human social and cultural values ​​(Humanitas College)
The goal is to cultivate outstanding individuals, responsible citizens, and mature community members.
The goal is to cultivate future talents who are interested in social issues, strive to solve them through an open view, and fulfill their responsibilities.
The excellence of this graduate school
Specialized major-focused education in the tourism field with a reputation and tradition of prestigious history
Research competency-focused education for knowledge creation in tourism hospitality field
Ranked 1st in QS in 2020 (35th in the world), 1st in the hotel tourism field in the world university evaluation of Shanghai Jiaotong University (excellent academic research area) in 2018 (8th in the world), Enter the first university in Korea to rank 10th in the world (hospitality & Tourism)
External environment and necessity of smart tourist center
The crisis situation of Covid-19 and the 4th industrial revolution paradigm lead to changes in the social and cultural environment, structural changes in the tourism industry, and changes in tourism consumption patterns.
In response to the Covid-19 crisis situation, convergence and multidisciplinary knowledge combination that can appropriately create crisis management capabilities and creative ICT smart technology in tourism is required.
Smart Tourism Education Research Direction
A study on crisis management following the global economic downturn and Covid-19
Future research on artificial intelligence, robots, and service automation in the 4th industrial revolution
A study on sustainable life in the combination of human, technology, and data
Expansion of the Global education market, focus on inbound and outbound talent education and job start-ups
Smart Tourism Education Platform (STEP)
Sustainability : Specialized human resource in the study field
Digitalization : Data/Technology Innovative Digital human resource
Convergence Studies : Creative Challenge Convergence human resource
AI&Humanics Harmony : Human-oriented global human resource